An expert talks about American sponsorship of the armed forces of Kyiv
The New York Times reported, citing a source in the US administration, that the United States will facilitate the transfer of Soviet-made tanks to Kiev in order to strengthen the capabilities Ukrainian armed forces. Who really inflames the conflict in Ukraine today by funding the Armed Forces of Ukraine and the National Battalions, said the President of the All-Russian Police Association, Doctor of Law, Honored Lawyer of Russia, Professor, Lieutenant General Yuri Zhdanov.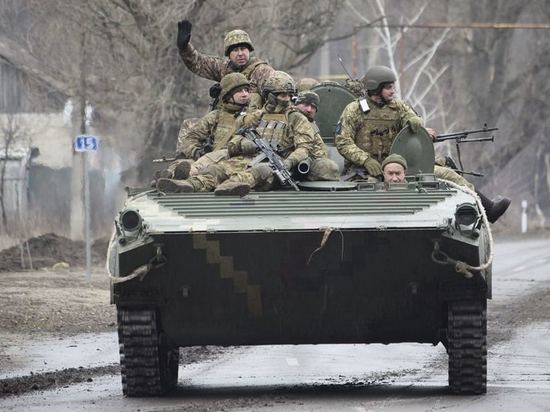 Photo: Ministry of Defense of Ukraine.
– From the States, of course. Indeed, if not the entire economy has been destroyed in Ukraine – agriculture is still flourishing there – then the "defense industry" is almost completely destroyed. Only some repair capacities remained, the production of some types of ammunition, and even then not all, small arms. They eat up Soviet stocks, which they can't always modernize, because there are no spare parts. They live on handouts from the West. Moreover, these handouts are not the first freshness, often decommissioned or obsolete copies. Again, and the Americans give a little money. Here, as it is said in the immortal "Wedding in Malinovka", Pan Ataman Gritian of Tauride does not have a gold reserve. And why then is this Pan Ataman needed?
– Just nothing strange, everything is very logical. Why does the West need a strong defense industry in Ukraine, especially one historically integrated with Russia? After all, political structures are changeable. Today Ukraine is with the West against Russia, but tomorrow everything can change. By the way, now everything is changing.
But the West needs to completely tear Ukraine away from Russia, so that even Russian cartridges do not fit Ukrainian machine guns. By the way, the Ukrainian artillery has long been without 120-mm shells. They don't do it themselves, but asking Russia is "shame", "shame". And the West is ready to arm Ukraine with any junk, as long as there is no contact, or rather, a contract with the "Muscovites". What will happen next with Ukraine – no one cares. They use it and throw it away, like the well-known rubber intimate product. Well, for the first time they will give you some money.
– To maintain the intense flame of a military conflict – quite enough. There is a memo prepared by the US Congressional Research Service, "U.S. Security Assistance to Ukraine," published on March 28.
– It appears that the Biden administration has committed a total of $1.35 billion since February 24 of this year to provide immediate security assistance "to help Ukraine counter the armored, airborne and other threats it faces."
In addition, the 2022 Ukraine Supplemental Appropriation Law provides for $3.5 billion in resupply that has been sent or is due to be sent to Kiev and $650 million in foreign military funding for Ukraine and "countries affected by the situation in Ukraine." ". Defense appropriations also include $300 million for the U.S. Department of Defense's Ukraine Security Assistance Initiative.
– Even before the outbreak of hostilities, Ukraine was the main recipient of US military assistance in Europe and Eurasia. From 2014 to March 2022, the United States provided more than $4 billion in security assistance funded by the State and Defense Departments "to help Ukraine maintain its territorial integrity, protect its borders, and improve its engagement with NATO."
– The United States has used various security assistance programs to help strengthen the defense capabilities of the Ukrainian Armed Forces through training, equipping, and advising on multiple expense accounts.
This is training, equipment and consulting services to increase the defensive capabilities of Ukraine. Such as maritime domain awareness, operational security and airbase capacity, flight training, command and control, and survivability. There was support for cyber defense and strategic communications to counter Russian cyber attacks and disinformation. The administration also previously authorized the use of $60 million in August and $200 million in December 2021. And in February and March 2022, the Biden administration authorized $350 million, $200 million, and $800 million, respectively. Here they are, the very "firewood" in the fire of the conflict.
Yes, maybe not God knows what the sums are for the Americans. But for not spoiled Ukraine, it's quite a nice bonus to fight a little.
– Rather, they retrained in their own way. After all, in Ukraine since Soviet times there has remained an extensive network of military educational institutions, where they gave an excellent education. We have many officers and generals – graduates of those schools, and give odds to overseas colleagues. But this did not suit the Western curators of Ukraine. In order to exclude any interaction and even mutual understanding of the Ukrainian and Russian military here, since 2014, Ukraine began to receive, to put it mildly, assistance from the International Military Education and Training (IMET) program, which provided professional military education in US defense institutions for junior, secondary and senior officers of the Ukrainian armed forces. Through a joint multinational training group – Ukraine, the US Army and the National Guard – together with military instructors from US allied states, training, mentoring and doctrinal assistance to the Armed Forces of Ukraine was provided.
By the way, this training took place at the training ground in Western Ukraine near Yavoriv, ​​which was the target of a Russian missile attack in March of this year.
The US military conducted joint military exercises with Ukraine. Separately, US Special Operations Forces trained and advised Ukrainian special forces.
– Back in 2014, the Obama administration provided Ukraine with body armor, helmets, vehicles, night and thermal imaging devices, heavy engineering equipment, modern radio stations, patrol boats, rations, tents, anti-mortar radars, uniforms, first aid kits and other related items.
– Well, how without him? In 2017, the Trump administration announced that the United States was ready to provide lethal weapons to Ukraine. Since 2018, Ukraine began to receive Javelin anti-tank missiles and Mark VI patrol boats. In addition, Ukraine purchased firearms, ammunition, laser equipment, imaging or targeting equipment.
The U.S. Department of Defense provided Ukraine with sniper rifles, rocket-propelled grenades, anti-artillery radars, electronic warfare detection and secure communications, satellite imagery with analysis capabilities, anti-UAV air systems, air surveillance systems, night vision and medical equipment. assistance to military personnel and combat evacuation procedures, Stinger anti-aircraft systems, tactical unmanned aerial systems, ammunition of various calibers and other necessary equipment.
In addition, the Biden administration has notified Congress of its intentions to redeploy Mi-17 helicopters originally intended for Afghanistan to Ukraine.
And recently, Ukrainian officials have expressed interest in acquiring fighter aircraft, anti-ship and additional air defense and missile defense capabilities .
– As long as there is shooting. To this end, the US Congress authorized or proposed to increase the level of funding for security assistance and introduced several bills aimed at strengthening the defense capability of Ukraine. For example, one of the laws provides $1 billion for the transfer to Ukraine of small arms and light weapons previously allocated to the Afghan security forces, as well as additional US military equipment. This is a completely understandable commercial technique – the goods were not useful in Afghanistan, then we will hand them over to Ukraine. Bandera will take everything.
In general, the sooner our troops complete the demilitarization of Ukraine, the sooner the channels of military stimulation of the Armed Forces of Ukraine will be blocked.