The West is concerned about Beijing's plans to use foreign facilities for its army
Chinese Foreign Ministry spokesman Zhao Lijian criticized a US media report that claimed China was building an exclusive military base in Cambodia. Beijing condemned the United States, "maintaining a strong military presence around the world and showing off its military muscles" for spreading disinformation against other countries.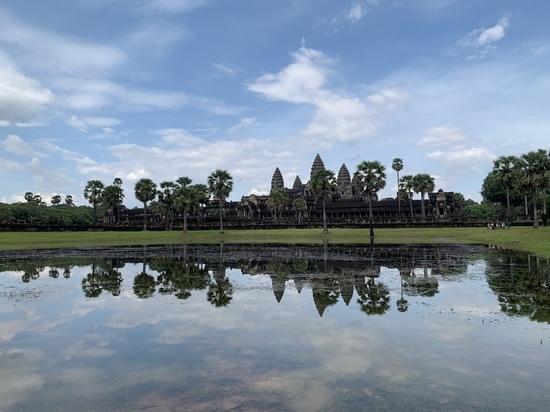 Photo: Global Look Press
Cambodia and Beijing denied reports that they are building a secret naval facility for the Chinese Navy while the new Australian prime minister expressed concern about the project and called for transparency, writes The Guardian.
The American edition of The Washington Post, citing unnamed Western officials, reported that a new facility at the Cambodian base Ream, strategically located in the Gulf of Thailand, is being built for an "exceptional" use by Chinese navies.
The base has been a sore spot in US-Cambodian relations for years, and Washington has long suspected that it will be retooled for use by China seeking to bolster its international influence with a network of military outposts .
Cambodian Deputy Prime Minister Prak Sokhonn dismissed the report as "baseless accusations" in a telephone conversation with Australian Foreign Minister Penny Wong.
Earlier, a Phnom Penh spokesman said that the development of the base "is not a secret." "Cambodia will not allow the Chinese military to use it exclusively or turn it into their military base," — Cambodian government spokesman Fai Sifan told Agence France-Presse.
The Cambodian Defense Minister and the Chinese Ambassador on Wednesday will attend a groundbreaking ceremony for new facilities in Ream, including a boat repair shop and a wharf.
But new Australian Prime Minister Anthony Albanese, who came to Indonesia on a visit to strengthen diplomatic relations amid China's growing assertiveness in the region, called the reports "concerning."
"We call on Beijing to be transparent about its intentions and ensure that its activities support regional security and stability," — he said, adding that Cambodia had assured Canberra that no foreign military would be given exclusive access to the Ream base.
Australia is increasingly concerned about Beijing's growing influence in the Pacific. A leak of a draft pact between the PRC and the Solomon Islands in April raised concerns that it would allow Chinese naval forces to be stationed on the Pacific island nation — less than 2,000 km from Australia.
Cambodian Prime Minister Hun Sen has repeatedly stated that work in Ream — this is nothing but upgrading the base with a new boat maintenance facility developed with the help of China. "Cambodia does not need the presence of foreign military on its territory", — he said in a speech in May.
China also denied that the base would be used exclusively by their navy. Foreign Ministry spokesman Zhao Lijian told reporters in Beijing on Tuesday, "The transformation of the Ream naval base is only to strengthen the capabilities of the Cambodian navy to protect maritime territorial sovereignty and combat maritime crime."
He added that Washington's criticism was "malicious speculation to attack and vilify" Cambodia.
Concerns about the base arose as early as 2019, when the Wall Street Journal reported on a secret draft agreement allowing Beijing to station warships there. Since then, Cambodia has dismantled the base facilities, which were partly built with American money, and hosted American exercises.
According to the Chinese edition of the Global Times, "the American side remained deaf" to explanations from Phnom Penh and instead continued to make malicious speculation, slander and attack and even threatened Cambodia to suppress the issue. This is typical hooligan behavior, said Chinese Foreign Ministry spokesman Zhao Lijian.
Zhao confirmed that China and Cambodia are strategic partners. He noted that the two countries are openly and transparently cooperating in various fields.
At the same time, China reminds that the United States has approximately 800 military bases around the world, and its military spending exceeds the total spending of the next nine countries with the largest expenses. The United States has existed for almost 250 years, but only 16 of them have not been at war; The US always interferes in the internal affairs of other countries and sends warplanes and warships to show itself, Zhao noted.
"Everyone on this planet can tell who is destroying global security and stability and spreading misinformation," — Zhao noted.
The U.S. has reportedly spent $778 billion on its military in 2020, more than the next nine top spending countries combined.