The family of the deceased sued
The consequences of the protests in Alma-Ata will have to be disentangled for a long time. Details of the execution of civilians emerge. All of them are similar: I was walking by, accidentally came under fire. And only one story stands out. On January 6, Yerlan Zhagiparov, a well-known archaeologist in Kazakhstan, was detained. Employees of the National Guard handcuffed him and took him away in an unknown direction. A few days later, relatives found him in the morgue.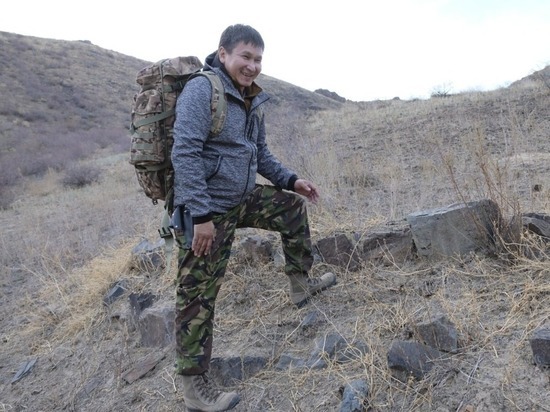 Yerlan Zhagiparov.
49-year-old Yelan Zhagiparov was buried on January 14. Now his brother is looking for those responsible for the death of a loved one.
— On January 6, Yerlan was visiting friends. I left them at 18.45 – we set the exact time on video cameras, – says the brother of the deceased Nurlan. He got home in his car. Parked. And he went towards the central square, to see what was happening there, since he lived nearby.
– At that time, no one could have imagined that people would be shot. No matter how paradoxical it may sound, Yerlan probably did not fully realize the danger. I thought that he was a simple local resident, he would see what was happening and return home. On January 5 and 6, hundreds of curious people walked around that square. Although I warned him: it's better to stay at home. But none of us felt the danger from the security forces. I only advised him to stay away from marauders. Another factor that played a role was that the Internet was turned off in the city and it was not possible to understand what was happening where.
The brother was stopped almost immediately, after 20 minutes. He managed to call a friend and inform that he was detained by the National Guard soldiers. Then the law enforcers picked up the phone. They spoke Kazakh, were rude, and cursed. They said: "We are the National Guard. What is your friend doing here? If you want, come here too." Then the connection was cut off. We couldn't get through to my brother anymore.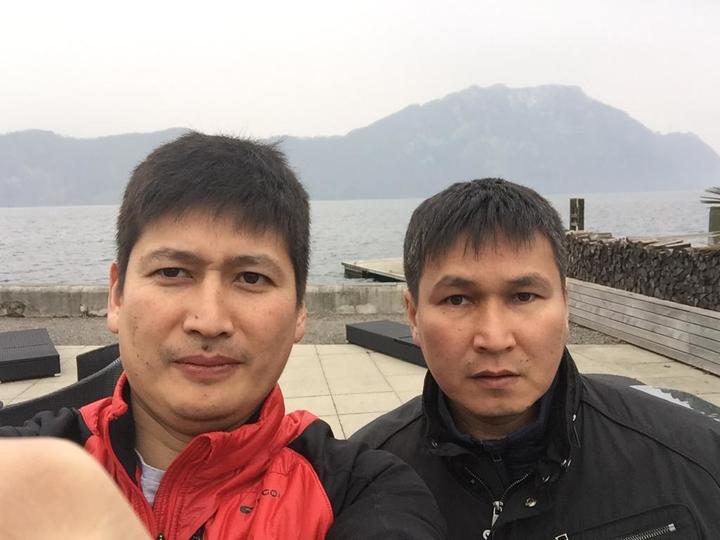 On the right – the deceased Yerlan, on the left – his brother Nurlan.
The search for the missing Yeralan began the next day. Friends of the missing went around the police stations, hospitals.
"My intuition failed me. I could not imagine that his detention is fraught with some terrible consequences," adds the interlocutor. – We were reassured: do not worry, many curious people were detained, the data was rewritten and released. We expected that Yerlan's identity would also be established and released. After all, he had documents with his home address. When there was no news of him for three days, Yerlan's friends went to the morgue. I had not yet arrived in Kazakhstan. Among the dead brother was not found. According to Yerlan's friend, there were many bodies in the corridor of the morgue. It was emotionally difficult to recognize the dead. Maybe that's why they didn't find him. So we don't know if Yerlan was among those killed then or not.
On January 12, we again went to the morgue. And already with a more thorough examination, they found his body with traces of beatings, gunshot wounds. Arms and ribs were broken. The skin on his knees was torn off – either he was dragged along the ground, or forced to kneel.
– A gunshot wound to the heart and abdomen. We are waiting for the results of the forensic examination to understand from what distance he was shot and at what angle. Yerlan also had handcuffs on his left wrist with a tag: "Unidentified person of Asian nationality." We copied the numbers of the handcuffs.
— They could not be opened. Then they cut it.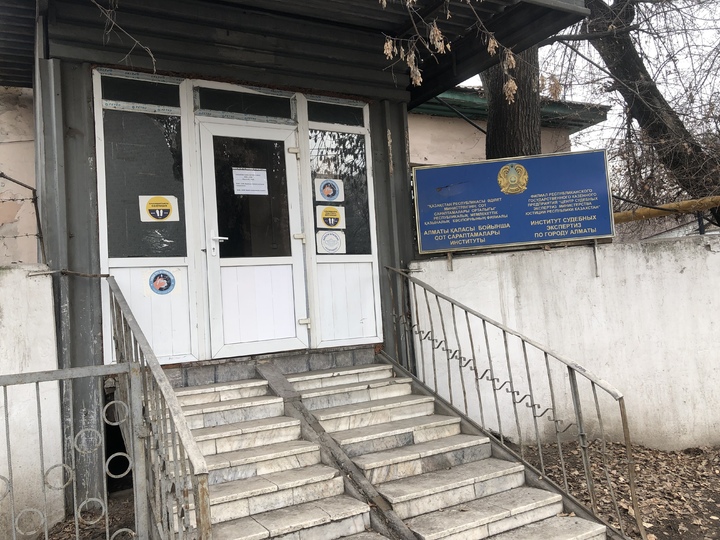 Morgue building in Alma-Ata.
– His documents are now with the investigator. We were told that he did indeed have a driver's license, a registration certificate for his car and for his mother's car, bank cards, and personal belongings. As I understand it, a lot of bodies were brought to the morgue. Documents were confiscated from the pockets of the dead, but they did not mark each one in particular. That is, documents in one heap, bodies in another. And they didn't find out whose documents belong to whom.
– No, they calmly handed over the body, gave the death certificate. And which one is a terrorist? Yerlan had nothing to do with religion at all. He was not a supporter of religious movements. I was fond of history…
We collected the body on January 13th. Yerlan was buried the next day. And on January 17, on Monday, we went to the police, gave evidence to the investigator.
The head of the investigation department invited us to his place, expressed his condolences. An investigator was quickly appointed to deal with the case. Maybe they reacted differently if Yerlan was not a public figure, and his murder did not cause a wide resonance.
A criminal case was opened on the fact of murder. We have hired a lawyer. And recently we received a call from Astana. They said that perhaps the servicemen were involved in the crime, so the case was transferred to another investigation team. No more news yet. Waiting.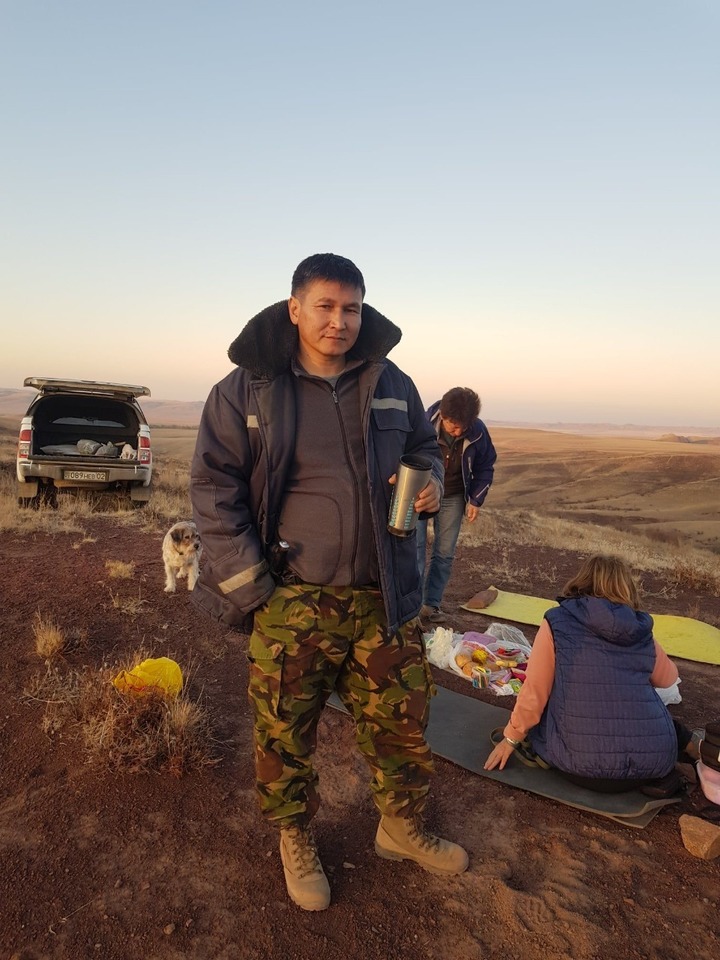 Erlan Zhagiparov.
"I don't know anything about it. He must have filmed something with his phone. Maybe this was the reason for his detention or even death.
— I have no doubt about it. But I don't think anyone listened to him. Now we are planning to reach out to people to find witnesses. We are going to communicate with other families whose loved ones have died. We will exchange materials to help in the investigation. I did not plan to contact human rights activists. I do not see that the investigators somehow hindered us in the investigation. The process is in progress.
– It will be hard to put down. After all, on a mobile phone you can track where it was delivered. They will figure out what kind of weapon and from what distance they shot at him, who detained him and put on handcuffs.
Our story caused a wide resonance. Foreign media, local and even state media have contacted us for comments.
— Yerlan was an active ethnic volunteer. He had a group of like-minded people who were engaged in research and preservation of the historical and cultural heritage of Kazakhstan. He deeply studied the traditions of the Kazakhs. I saw my mission in saving cultural values. I went to archaeological excavations, gave priceless artifacts to the museum. Participated in research expeditions to search for the most ancient rock paintings. By education, he is an architect by education, he built cottages. He was a highly educated and resourceful person.
I'll tell you about one more detail. Yerlan spent several years restoring our father's grave. He made a major project, came up with the structure of the crypt, strengthened it. Here in this crypt we buried him next to his father. Looks like he built it for himself. Yeralan left a 24-year-old daughter – a successful girl, graduated from a leading university in Kazakhstan, works in a foreign company.
– He never participated in the rallies themselves. Was far from all this. He devoted his life to research work.
— We grew up in Alma-Ata, lived in a civilized society. It is absurd for us that in the 21st century a person can be arrested and executed. We will definitely ensure that the people who committed the crime are punished.