The Family Museum of Grand Duke Konstantin Konstantinovich Romanov was opened in the Moscow region, in the village of Ostashevo, Volokolamsk District, on June 9th. Plenipotentiary of the President of the Russian Federation in the Central Federal District Igor Shchegolev , Governor of the Moscow Region Andrey Vorobyov, Chairman of the Supervisory Board of the Foundation for the Promotion of the Revival of the Traditions of Mercy and Charity "Elisabeth-Sergius Educational Society" Anna Gromova. Before the opening of the museum near the walls of the building, the dean of the Volokolamsk church districtpriest Mikhail held a prayer service.
The Museum of the Konstantin Romanov Family became part of the national tourist project "Imperial Route", which is being implemented with 2018 in 22 regions of Russia.
The exposition is located in the building of a two-class school, which was erected during the reign of the Grand Duke's family. The restoration of this building before the opening of the museum took two years. Now there are many unique items here: documents and historical photographs. Particularly interesting is the section devoted to the traditions of upbringing and education in the Grand Duke's family.
On the occasion of the opening of the museum in the manor church of Holy Blessed Prince Oleg of Bryanskthe consecration of the iconostasis took place, which was recreated on the basis of archival materials. The new iconostasis is as close as possible to the one that was supposed to appear in the temple-tomb of the owners of the estate. jpg" height="68″ width="103″ style="display: block;" />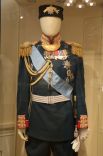 The opening of the museum was attended by Plenipotentiary Representative of the President of the Russian Federation in the Central Federal District Igor Shchegolev, Governor of the Moscow Region Andrei Vorobyov, Chairman of the Supervisory Board of the Elisabeth-Sergius Educational Society Foundation for Assistance in the Revival of the Traditions of Mercy and Charity Anna Gromova. © Personal archive/Vladimir Eshtokin
Priest Michael, dean of the Volokolamsk church district, held a prayer service for the beginning of a good deed and the consecration of the new museum. He is also the rector of the Church of the Nativity of the Mother of God in Volokolamsk, the Resurrection Church in Volokolamsk and the St. Nicholas Church in the village of Amelfino. © Personal archive/Vladimir Eshtokin
The museum is located in the building of the former two-class school, built by the Grand Duke's family in 1916 in memory of the Prince of the Imperial Blood Oleg Konstantinovich, who died heroically at the beginning of the First World War. © Personal archive/Vladimir Eshtokin
This museum will become the first and pivotal museum of the cluster "Grand Duke's Estate "Ostashevo" of the federal historical and cultural tourism project "Imperial Route" in the Moscow region. © Personal archive/Vladimir Eshtokin
The exhibition of the museum was prepared by the scientific team of the Elisabeth-Sergievsky Educational Society Foundation for Assistance to the Revival of the Traditions of Mercy and Charity within the framework of the Creative People grant from the Ministry of Culture of the Russian Federation. Local historians also joined in the formation of the exposition, through the efforts of which for many years the memory of the August owners of the estate has been preserved in Ostashevo. © Personal archive/Vladimir Eshtokin
The exposition is dedicated to the life and selfless activities of the Grand Duke's family, their patronage of charitable and public institutions, science, art, the history of the Ostashevo estate, the feat of arms of the sons of Grand Duke Konstantin Konstantinovich, as well as the fate of his descendants after 1917. © Personal archive/Vladimir Eshtokin
The museum presents recreated military uniforms and the uniform of a cadet. This is a reconstruction of the uniform of the General of the Life Guards Preobrazhensky Regiment of 1894. © Personal archive/Vladimir Eshtokin
His Grace Bishop Thomas of Odintsovo and Krasnogorsk performed the rite of consecration of the new iconostasis of the Church of the Holy Prince Oleg of Bryansk. © Personal archive/Vladimir Eshtokin
The iconostasis was recreated by Kaluga craftsmen on the basis of archival materials in maximum accordance with the iconostasis, which the Grand Duke's family planned to install in the tomb church. © Personal archive/Vladimir Eshtokin
The temple in the name of the holy noble princes Oleg of Bryansk, Igor of Chernigov and St. Seraphim of Sarov the Wonderworker was founded on July 5, 1915. Built at the expense of the family of Prince Konstantin Kostantinovich. © Personal archive/Vladimir Eshtokin
This temple was erected for the burial of the son of Konstantin Konstantinovich – Prince Oleg Konstantinovich, who died from a wound on the front of the First World War. During his lifetime, Prince Oleg Konstantinovich managed to express his will – to be buried precisely in the family estate in Ostashevo © From the personal archive/Vladimir Eshtokin
The opening of the museum was attended by Plenipotentiary Representative of the President of the Russian Federation in the Central Federal District Igor Shchegolev, Governor of the Moscow Region Andrei Vorobyov, Chairman of the Supervisory Board of the Elisabeth-Sergius Educational Society Foundation for Assistance in the Revival of the Traditions of Mercy and Charity Anna Gromova. © Personal archive/Vladimir Eshtokin
Priest Mikhail, Dean of the Volokolamsk Church District, held a prayer service for the beginning of a good deed and the consecration of the new museum. He is also the rector of the Church of the Nativity of the Mother of God in Volokolamsk, the Resurrection Church in Volokolamsk and the St. Nicholas Church in the village of Amelfino. © Personal archive/Vladimir Eshtokin
The museum is located in the building of the former two-class school, built by the Grand Duke's family in 1916 in memory of the Imperial Prince of the Blood Oleg Konstantinovich, who died heroically at the beginning of the First World War. © Personal archive/Vladimir Eshtokin
This museum will become the first and pivotal museum of the cluster "Grand Duke's Estate "Ostashevo" of the federal historical and cultural tourism project "Imperial Route" in the Moscow region. © Personal archive/Vladimir Eshtokin
The exhibition of the museum was prepared by the scientific team of the Elisabeth-Sergievsky Educational Society Foundation for Assistance to the Revival of the Traditions of Mercy and Charity within the framework of the Creative People grant from the Ministry of Culture of the Russian Federation. Local historians also joined in the formation of the exposition, through the efforts of which for many years the memory of the August owners of the estate has been preserved in Ostashevo. © Personal archive/Vladimir Eshtokin
The exposition is dedicated to the life and selfless activities of the Grand Duke's family, their patronage of charitable and public institutions, science, art, the history of the Ostashevo estate, the feat of arms of the sons of Grand Duke Konstantin Konstantinovich, as well as the fate of his descendants after 1917. © From the personal archive/Vladimir Eshtokin
The museum presents recreated military uniforms and the uniform of a cadet. This is a reconstruction of the uniform of the General of the Life Guards Preobrazhensky Regiment of 1894. © Personal archive/Vladimir Eshtokin
His Grace Bishop Thomas of Odintsovo and Krasnogorsk performed the rite of consecration of the new iconostasis of the Church of the Holy Prince Oleg of Bryansk. © From the personal archive/Vladimir Eshtokin
The iconostasis was recreated by Kaluga craftsmen on the basis of archival materials in maximum accordance with the iconostasis, which the Grand Duke's family planned to install in the tomb church. © Personal archive/Vladimir Eshtokin
The temple in the name of the holy noble princes Oleg of Bryansk, Igor of Chernigov and St. Seraphim of Sarov the Wonderworker was founded on July 5, 1915. Built at the expense of the family of Prince Konstantin Kostantinovich. © Personal archive/Vladimir Eshtokin
This temple was erected for the burial of the son of Konstantin Konstantinovich – Prince Oleg Konstantinovich, who died from a wound on the front of the First World War. During his lifetime, Prince Oleg Konstantinovich managed to express his will – to be buried precisely in the family estate in Ostashevo © From the personal archive/Vladimir Eshtokin Approximate reading time: 1 minute