According to Peskov, in order to discuss the possibility of a meeting between the Russian and Ukrainian presidents, it is first necessary to agree on the outcome of the negotiations between the delegations. Otherwise, the presidents "will have nothing to fix," he noted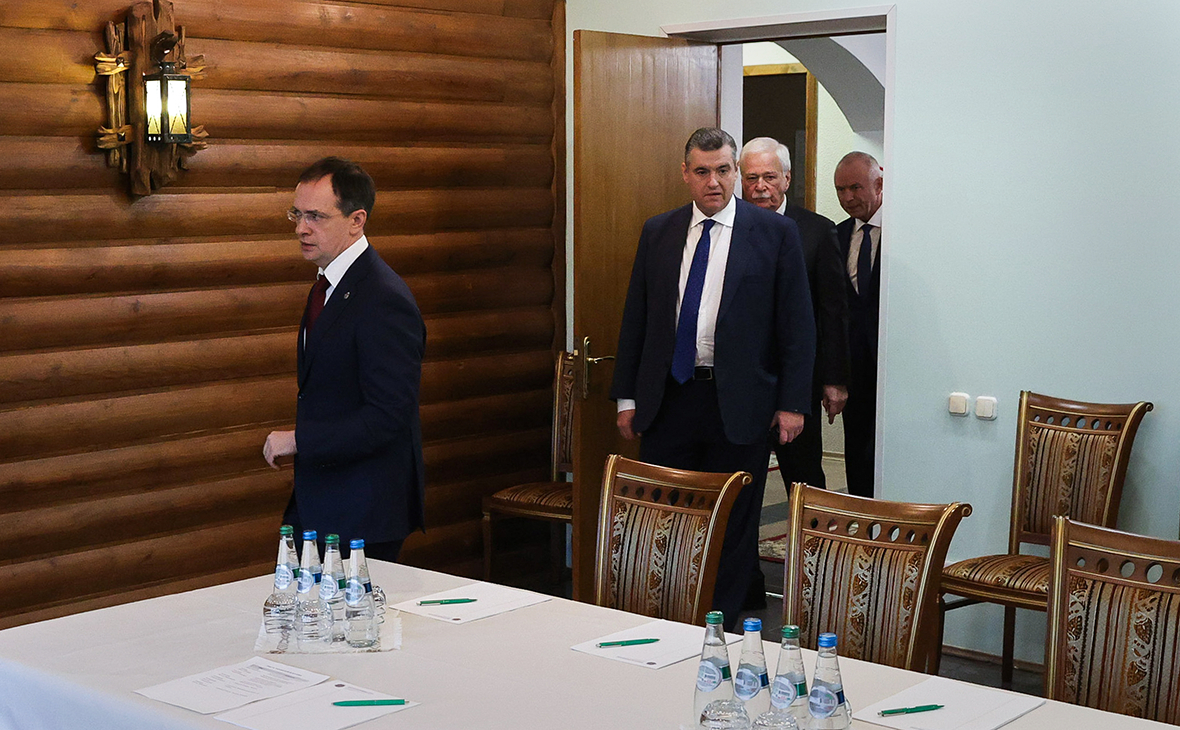 Vladimir Medinsky, Leonid Slutsky and Boris Gryzlov (from left to right) before the start of Russian-Ukrainian talks
To make it possible to discuss the meeting of the Russian presidents and Ukraine, first you need to do your homework— agree on the results of the negotiations between the delegations, Kremlin spokesman Dmitry Peskov told reporters, RBC correspondent reports.
"So far, no significant progress has been made. They [the presidents of Russia and Ukraine] will simply have nothing to fix, there are no agreements that they can fix," — said the spokesman.
According to him, the degree of rapprochement in the negotiations between the Russian and Ukrainian delegations is "not the same as we would like." The Russian side shows a greater willingness to work quickly and meaningfully than the negotiators from the Ukrainian side, Peskov said.
Since the beginning of the Russian military special operation in Ukraine, the delegations of both countries have met three times in Belarus, and then continued negotiations in video format. Kyiv, among other things, seeks the withdrawal of Russian troops from the territory of the country and security guarantees, and Moscow— Ukraine's legally formalized refusal to join military blocs and deploy weapons on its territory, as well as the recognition of the DPR, LPR and the entry of Crimea into Russia.
The Ukrainian delegation noted that the negotiations are difficult, but a compromise is possible. The head of the Russian delegation, Vladimir Medinsky, said that the parties were as close as possible in discussing the neutral status of Ukraine and its non-entry into NATO, but there are nuances regarding security guarantees for Kyiv "in addition to those available in case of refusal to join the bloc."
Concerning terms of achievement of concrete results in the Ukrainian delegation gave some forecasts, including allowed the coordination of disputable moments within one and a half weeks. But over the weekend, Kiev noted that talks could drag on due to "mutually exclusive legal issues"; and will last for several weeks.
Ukrainian President Volodymyr Zelensky, in turn, has repeatedly stated his readiness to negotiate with Russian President Vladimir Putin. Medinsky also noted that the summit meeting can be discussed only after the parties conclude an agreement.